Book Group
The NCPCA Book Group is an informal group of RPCVs who love to read international books and eat international food. We read and discuss books about the world, or by international authors. Add to that a potluck dinner from the selected country, and you've got a great evening! (Too busy to cook? feel free to bring a purchased item for the potluck.)
Meetings are on the second Sunday (usually) of odd-numbered months, beginning at 5:30pm and finishing up around 8:30pm.
For more information about the Book Group, to RSVP for a meeting, and for directions for each meeting please contact Peggy Schaeffer or Ruth Heuer.  Or go to our Google Group page and request to join to our group, so you'll get announcements of all upcoming meetings.
An up-to-date list of all the books the book group has read (about 150 titles, since 1994) is available here.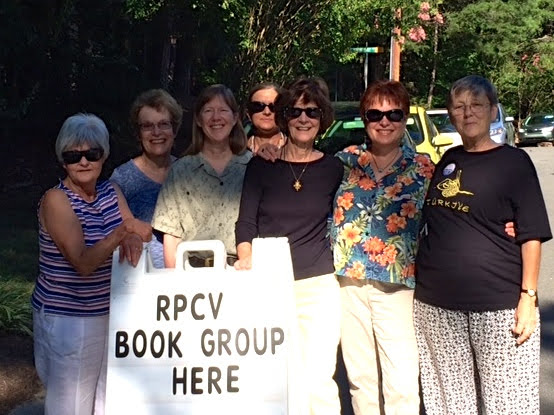 Dates, books and hosts for 2019 
These 6 books were chosen by vote, from over 20 titles nominated by members, and here's the schedule for the year:
January 13  Red Notice, by Bill Browder
March 10  The Monk of Mokha, by Dave Eggers
May 12 (Mother's Day!)  Tribe, by Sebastian Junger
July 14 Saving the World, by Julia Alvarez
September 8  The Sympathizer, by Viet Thanh Nguyen
November 10 Fascism: A Warning, by Madeline Albright
See below for book summaries and links to sources for loan or purchase.  We need a few more people to host our meetings.   If you are interested in being a host, please let us know!  Just contact Peggy Schaeffer or Ruth Heuer. 
January 13

hosted by Kay and Sam Leaman (Chapel Hill)

Red Notice:  a true story of high finance, murder, and one man's fight for justice, by Bill Browder, non-fiction

A real-life political thriller about an American financier in the Wild East of Russia, the murder of his principled young tax attorney, and his dangerous mission to expose the Kremlin's corruption.

Bill Browder's journey started on the South Side of Chicago and moved through Stanford Business School to the dog-eat-dog world of hedge fund investing in the 1990s. It continued in Moscow, where Browder made his fortune heading the largest investment fund in Russia after the Soviet Union's collapse. But when he exposed the corrupt oligarchs who were robbing the companies in which he was investing, Vladimir Putin turned on him and, in 2005, had him expelled from Russia. A financial caper, a crime thriller, and a political crusade, Red Notice is the story of one man taking on overpowering odds to change the world.

 

Links to get this book:
Libraries: Durham, Wake, Chapel Hill
Book vendors: AbeBooks, Amazon

March 10

hosted by Lisa O. in south Durham

The Monk of Mokha, by Dave Eggers, non-fiction

Mokhtar Alkhanshali is twenty-four and working as a doorman in San Francisco when he discovers the astonishing history of coffee and Yemen's central place in it. He leaves San Francisco and travels deep into his ancestral homeland, Yemen, to tour terraced farms high in the country's rugged mountains and meet beleaguered but determined farmers.

But when war engulfs the country and Saudi bombs rain down, Mokhtar has to find a way out of Yemen without sacrificing his dreams or abandoning his people.

 

Links to get this book:
Libraries: Durham, Wake, Chapel Hill
Book vendors: AbeBooks, Amazon

May 12 

NOTE: Mother's Day! 
hosted by Barbara in Raleigh

Tribe, by Sebastian Junger, non-fiction

For millennia, humans banded together in tribes that provided food, shelter, economic stability, and defense from enemies. Western society evolved away from close-knit clans as economies diversified and industry developed and basic needs could be met outside the tribe. Even in a contemporary culture that values individual expression and independent thinking, the concept of "tribe" speaks to our need to identify with others and to belong. This is a short book and a thoughtful one

 

 

Links to get this book:
Libraries: Durham, Wake, Chapel Hill

July 14

hosted by Jill G (Chapel Hill)

Saving the World, by Julia Alvarez, fiction

In Alvarez's appealingly earnest fifth novel two women living two centuries apart each face "a crisis of the soul" when their fates are tied to idealistic men whose commitments to medical humanitarian missions end in disillusionment. Alma Heubner's husband, Richard, goes to the Dominican Republic to help eradicate AIDS, while Alma, a bestselling Latina writer, stays at home in Vermont to work on a story about a real, ill-fated 19th-century expedition chaperoned by Dona Isabel Sendales y Gomez, the spinster director of a Spanish orphanage who agrees to vaccinate 20 of her charges with cowpox and bring them from Spain to Central America to prevent future smallpox epidemics.  Alvarez depicts her two heroines with insightful empathy and creates vivid supporting characters.  The narrative culminates in a compelling scene in which greed and ineptitude trump idealism, dramatizing the question of whether the means are ever justified by the ends.

Links to get this book:
Libraries: Durham, Wake, Chapel Hill
Book vendors: AbeBooks, Amazon

September 8

hosted by Jane B (North Raleigh)

The Sympathizer, by Viet Thanh Nguyen, fiction

With the pace and suspense of a thriller and prose that has been compared to Graham Greene and Saul Bellow, The Sympathizer is a sweeping epic of love and betrayal. The narrator, a communist double agent, is a "man of two minds," a half-French, half-Vietnamese army captain who arranges to come to America after the Fall of Saigon, and while building a new life with other Vietnamese refugees in Los Angeles is secretly reporting back to his communist superiors in Vietnam. The Sympathizer is a blistering exploration of identity and America, a gripping espionage novel, and a powerful story of love and friendship.

 

 

Links to get this book:
Libraries: Durham, Wake, Chapel Hill
Book vendors: AbeBooks, Amazon

November 10

hosted by Lisa in Durham

 

Fascism: A Warning, by Madeline Albright, non-fiction

A personal and urgent examination of Fascism in the twentieth century and how its legacy shapes today's world, written by one of America's most admired public servants, the first woman to serve as U.S. secretary of state

A Fascist, observes Madeleine Albright, "is someone who claims to speak for a whole nation or group, is utterly unconcerned with the rights of others, and is willing to use violence and whatever other means are necessary to achieve the goals he or she might have."

The twentieth century was defined by the clash between democracy and Fascism, a struggle that created uncertainty about the survival of human freedom and left millions dead. Given the horrors of that experience, one might expect the world to reject the spiritual successors to Hitler and Mussolini should they arise in our era. In Fascism: A Warning, Madeleine Albright draws on her experiences as a child in war-torn Europe and her distinguished career as a diplomat to question that assumption.

 

Links to get this book:
Libraries: Durham, Wake, Chapel Hill
Book vendors: AbeBooks, Amazon